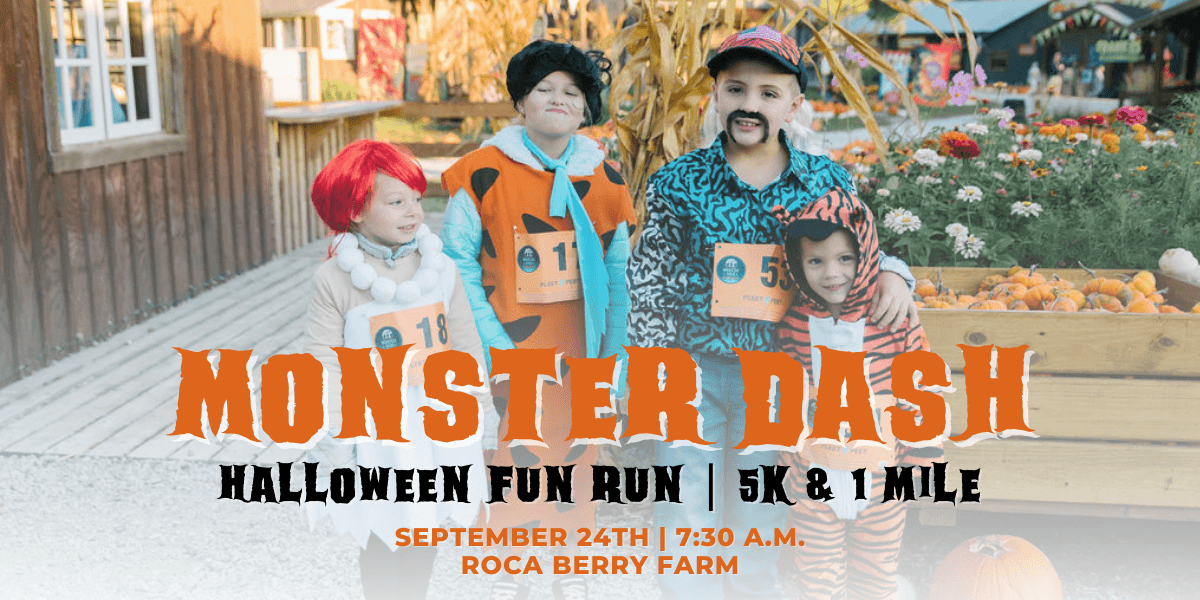 Monster Dash 2022
The Child Advocacy Center's 15th annual fun run!
We hope you'll join us and DASH to make a difference!
5K Run* (begins at 7:30am) - $30.00 for individual or $300 for a team of up to 12 runners - price includes entry to Roca Berry Farm on race day!
1 Mile Run (begins immediately following the 5k at 8:00am) - $20.00 for individual or $200 for a team of up to 12 runners - price includes entry to Roca Berry Farm on race day!
*If you register for the 5K race, you may also run the 1 mile race with your registered child(ren).
All finishers will enjoy fresh donuts and coffee at the finish line with free entry to Roca Berry Farms if you choose to stay & play!
RACE AWARDS
Awards will be given to the top three female and top three male finishers of the 5K run, and to the top three children-finishers of the 1 mile run.
COSTUME AWARDS
We hope you'll dress to impress! Awards will be given to the best adult, child, and team Halloween costumes! We will announce the awards at 8:30 AM.
PACKET PICKUP
Early packet pickup will be held on Friday, September 23rd at the following locations:
11:00am - 1:00pm at First State Bank, 2701 Grainger Pkwy, Lincoln
4:00pm - 6:00pm at the Child Advocacy Center, 5025 Garland Street, Lincoln
Packets will also be available at Roca Berry Farm starting at 7:00am on race day.
THANK YOU TO OUR SPONSORS
Many thanks to our generous sponsors who help make this event possible and who help provide critical services for the children we see.
Title Sponsor: First State Bank Nebraska
Advocate Sponsors:
Nebraska Hearing Center
OHDBS Law Firm
Runza
Sid Dillon Buick Nissan Hyundai
Activist Sponsors:
Capitol Heating & Air
Joe Courtney - Keller Williams Lincoln
Lincoln Northeast Kiwanis
Marsh & McLennan Agency LLC
Pinnacle Bank
Ally Sponsors:
Lincoln Industries
State Troopers Association of NE
Host Sponsor:
Roca Berry Farm
In-Kind Sponsors:
Ameritas - Print Sponsor
The Mill Coffee & Tea - Coffee Sponsor
Norland Pure - Water Sponsor
Michelle Lenners & Renee Holscher: Home Realty - Photography Sponsor
For information about sponsorship, in-kind donations or volunteering for Monster Dash, please contact Abby Worster at abby@smallvoices.org.